The new epidemic corona virus(COVID-19) has been hitting certain markets hard. Globally, the travel and tourism sector has noticed a serious decrease in the overall activities. They say, when life gives you lemon make lemonade. Nowadays, travelling and promoting certain destinations can no longer be the lemonade you make. Most of the countries have totally stopped the travel sector and airlines decided to close many destinations to avoid the rapid spread of the virus and protect the public health.
The airlines are facing a serious issue to maintain their services to the demanded level. But, no demand is there! Everyone wonders how airlines will make money while all the passengers are scared to travel? And how will they handle all the lose they are facing specially after blocking many destinations.
For sure, blocking certain destination is the crisis airlines face lately especially the airlines that have a daily flight or more. Will airlines try to offer different services to enhance travelers to start their activities again? Not just airlines, hotels,cruises companies and other travel related services are facing the same issue.The travel industry is suffering its worst crisis in more than 18 years.
People in China, Italy, and Iran started to not travel at all. Below is a statistic of global travel industry growth in the last few weeks before and after the dramatic virus spread:

As shown, hotels are not affected with the new epidemic and the sales decrease is not as much as flights and OTAs are. The data mentioned are for travel Bookings per each travel category listed above.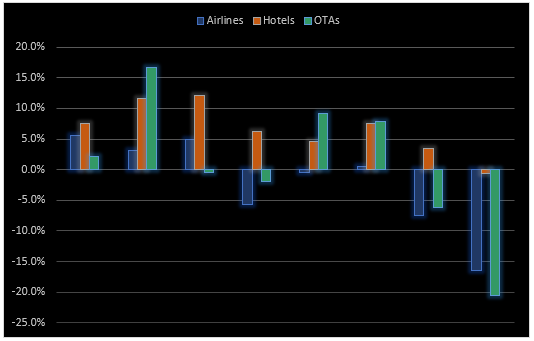 The chart above clarifies the dramatic change occurred in Airlines, hotels, and OTAs since the 7th of Jan to 2nd of Mar. The data are recorded on weekly basis. The statistics are expected to decrease more over the coming few weeks.
Also, the average decrease on the travel industry during the last eight weeks (from 7th Jan to 2ndMar) can be presented as the chart below: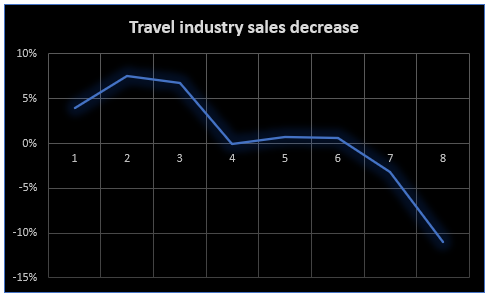 Let's hope for the best and advise all the passengers to follow safety tips and avoid further spread of the virus and put the public health in our priorities to keep all the lives saved from this danger.
Discover more about Babylon Booking's blogs, system, features, prices, and variety of airlines content available in one FREE access interface. To receive your login details/credentials for access to our B2B air ticketing portal, please register on our Website or send us an Email to help you with your registration, and for you to get more detailed information on our portal.